Getting Used to New Priorities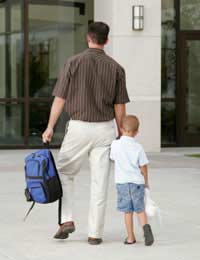 The average bloke might list going on holiday, enjoying a few pints, a good sex life, a nice motor, success at work and following his football team through thick and thin as his top priorities, although not necessarily in that order. A househusband's priorities are his children, his partner and his home – in that order.
Being a househusband can seriously damage a man's social life and it can be a bit of a shock to the system. The booze-soaked weekends become a thing of the past, the nice motor will probably have to be traded in for an estate car or people carrier, holidays will never be the same, the football team will have to be followed from the comfort of an armchair and he'll be lucky to have enough energy left for sex.
The new number one priority is the children. A young child is not only cute, charming and loveable, but also pretty useless. Dribbling, smiling and crawling is no trouble at all, but when it comes to anything constructive, such as feeding and changing, the child is struggling and the househusband is called into action.
Giving Your Attention
And, although young children can entertain themselves for short periods of time, it won't be long before the househusband is called on to provide entertainment or comfort. When the child calls, the househusband really does have to drop everything and come running.
A househusband's second priority is his partner. The role of breadwinner is a vital one, but a partner may come to resent it, as it will mean less time can be spent with her children. It is up to the househusband to ensure his partner is aware of what a key role she plays and how much it is appreciated.
Although the children come first, a househusband has to make time for his partner or the marriage may suffer. It's not always easy with the children using up so much of his energy, but small gestures can make a big difference. For instance, listen and take an interest in what a partner has to say when she describes her day at work. Admittedly this can be a bit of a departure for some men, many of whom switch off as soon as their partner opens their mouth, but listening will demonstrate how much the partner's role is respected.
Tell Your Partner About Your Day
It is just as important for a househusband to give an account of his day and, in particular, what the children have been up to. His partner can't be there to see her children grow, so the househusband has to fill in the details of what she has missed and make her feel a part of the process.
Priority number three – the housekeeping – is important for two reasons. First and foremost, the house has to be kept as clean as possible for the children, who will crawl or role into every nook and cranny and put any piece of dust or fluff they find straight into their mouths.
Secondly, a clean house will take some of the strain off the working partner and allow her to spend her free time with her children rather than worrying about the state of her home.
You might also like...