Disposable Nappies or Reusable Nappies?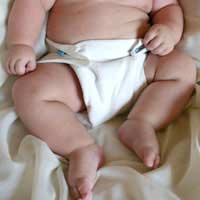 It's a dirty job, but somebody's got to do it. Changing nappies is not one of the most pleasant chores a househusband will face, but if he struggles at first there is no need to panic because there will be plenty of opportunity to practise.
A baby should be changed immediately after doing a poo and every two or three hours during the rest of the day. Within a few weeks a stay-at-home dad will be able to change a nappy in his sleep - a skill that might come in handy during the night.
First of all, parents must choose what type of nappy to use - real or disposable. As the househusband will be doing most of the work, he should have more of a say.
Environmental Issues
Environmentally-aware parents may be drawn to real, or towelling, nappies, because disposable nappies add to the waste sent to already overburdened landfill sites. Real nappies have an impact on the environment too, however, as washing and drying towelling nappies uses electricity and water.
Disposable nappies are, without doubt, less hassle. They don't need scraped clean over a lavatory bowl, just wrapped up and thrown away, and they don't leak as much as towelling nappies so less time is spent changing and washing clothes and bedding.
Real nappies are not as fiddly nowadays, as shaped nappies with Velcro fastenings have replaced folding nappies with pins. They don't contain any of the chemicals used to create the super-absorbency of disposables and are less expensive in the long run, especially if reused for later babies. The initial cost can be upwards of £200, however.
Falling Fertility
Both types are as likely to cause nappy rash, but there has been scientific research that suggests the widespread use of disposable nappies has played a significant role in the falling fertility in Western European men. This is because disposables heat up the testicles above normal body temperature.
Some parents will use both types - preferring real nappies at home and the more convenient disposables when on the move - but unless he is prepared to add to an already considerable workload, a househusband should opt for disposables.
The art of changing a nappy is fairly straightforward. Don't bother with a changing table, as it's easier and safer to change a baby on a changing mat on the floor. Make sure supplies of new nappies, baby wipes (or cotton wool and water), nappy barrier cream, nappy rash cream (for emergencies) and nappy sacks (for disposables) are at hand.
Flying Pee
Put a towel on the changing mat, as it will keep the baby's skin off the cold plastic and absorb any little accidents that occur mid-nappy change. Unfasten the old nappy, but watch out for boys peeing up in the air. A tissue on his penis can prevent a soaking.
Hold the baby's ankles in one hand and lift the baby's bottom up far enough to remove the old nappy. Clean the baby with wipes, but with boys don't pull back the foreskin and with girls make sure to wipe from front to back to prevent urinary infections.
Pat the baby dry with a tissue, lower the baby's bottom onto a clean nappy and apply any cream before fastening. Don't be surprised or worry if the baby does not seem to be enjoying the experience - as few do.
You might also like...