I Quit My Job to Be a Househusband: A Case Study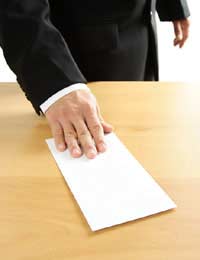 Given the opportunity, plenty of people would ditch their job without a moment's thought, but it wasn't so easy for public relations executive Paul Green. He loved his job and knew he would miss it, but gave it up to look after his infant son and has not regretted his decision.
"Sally, my wife, works in haematology at one of the city's hospitals and didn't want to give up her career," explained Paul, who lives in London. "We discussed what we wanted for our children and agreed that we would rather raise them at home than opt for childcare."
"I loved my job and, in terms of income, was earning slightly more than Sally. I guess we were in a fortunate position, because we knew that by making a few small adjustments we would be able to survive quite comfortably on one salary. I know that's not the case for a lot of parents."
Taking the Plunge to Leave Work
"A couple of factors swayed the decision. Sally had the better pension plan and we knew it would suffer if she took a break from work. Also, looking to the future, we felt it would be easier for me to find a good job if I chose to return to work than it would be for Sally. So, after much soul searching, I took the plunge, handed in my notice and took over the childcare duties once Sally's maternity leave came to an end."
"I was a bit surprised by the reaction I got at work. Officially it was all handled very professionally, of course, and I was told there would be a job for me if I wanted to return at a later date, which was nice to hear. But unofficially – in the pub after work – I took a lot of stick. Looking back now, I was too wrapped up in coming to terms with the decision to give much thought to the kind of reaction my colleagues might have. There was a lot of good-natured banter – the usual clichés about who's wearing the trousers – and I landed a nickname that's stuck so I'm now known to my former colleagues as 'Mummy'."
Missing Out on Work and Banter With Colleagues
"I've been looking after Josh, our son, for almost two years now and, if I'm honest about it, I miss almost every aspect of my job, from the work itself and dealing with the clients, to chattering with colleagues and winding down at the end of the day with a couple of pints at our local."
"Having said that, I don't regret the decision I made in the slightest. I've already had loads of fun with Josh and the more he grows and develops, the more new things we can do. If anyone is having doubts about their decision it's Sally. At times, I feel she can feel a bit envious of the bond I've got with Josh, even though she has a great relationship with him too."
"We want to have another child and, if everything goes to plan, I'll be looking after Josh's little brother or sister too. It will be a lot of work – it is already – but I can't wait. Looking ahead, I'm sure I will return to the workplace one day, maybe when the children are at school, but until then I have more important things to do with my time."
You might also like...
Hi there, I am in a job with unreliable hours and unstable locations due to demand, our childcare costs roughly £420 per month which is nearly as much as our current mortgage. We have very little per month left over after all the bills and groceries and the little we do have left is spent on fuel to get to work. It seems I'm going to work purely to pay for someone else to look after my child while I'm there. I am contemplating being a stay at home dad but don't know what (if any) support I could receive?
Goingnuts
- 6-Apr-18 @ 8:25 AM