Is There a Househusband Stigma?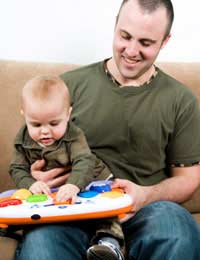 Regardless of what the politically correct brigade say in these so-called liberated times, there is still a stigma attached to being a househusband. There may have been a slight shift in some people's thinking, but, on the whole, society maintains that it is the man's duty to be the breadwinner.
As househusbands are not the norm, people will not accept them at face value in the way they do housewives. Instead they will question why it is a man has taken on such a role and, in general, will jump to the conclusion that he does not have the earning power of his partner.
The fact that this is true in many instances does not improve the plight of the househusband, rather it lends people an apparent justification for feelings of pity or contempt.
Societies Attitude - Mr Mum
Male friends with careers to boast about can try to make househusbands feel inferior and excluded, so expect some childish jibes about being the girl of the house or Mr Mum.
Worse than that are those who pity the househusband, believing he has sacrificed his self-esteem and any hope of a worthwhile career by being suckered into the role of staying at home to raise his children. Others go even further and view househusbands as just plain weird. These people refuse point-blank to believe anything they are told about househusbands, insisting that these men are nothing more than unemployed and can't measure up in the 'real' world.
It is not always easy for househusbands to be positive about their role in the face of such an onslaught. Male pride coupled with centuries of history portraying man as the provider can make it difficult for stay-at-home dads to feel secure, and an ego bruised by quitting a highly-regarded job for the sometimes angst-ridden and seemingly perpetual duty of caring for children can be hurt further.
Simple Solution
Yet the solution is simple. A househusband has to be able to rise above the pity, contempt and ignorance and not allow the low status society attaches to his role affect his self-esteem. It's something housewives have been doing for generations.
Househusbands who play down their role and feel ashamed or embarrassed in the company of others can expect to be patronised and seen as a loser. On the other hand, if a househusband is genuinely proud of the work he does, as he should be, the confidence he exudes can have a significant bearing on how he is viewed by others.
The ultimate test comes at social gatherings, and partners can be more of a liability than a help on such occasions, despite the best of intentions. If a partner wants to show her appreciation by parading her 'supportive husband' it can be more than a little patronising.
A husband does not want to be thanked in public for taking on the child caring role any more than any wife would be, so discuss this prior to the event and explain that the role itself is reward enough.
You might also like...
I have questions. Why do these kinds of social stigma exist? Why do most people find it weird to have the husband stay at home?