Mother and Toddler Groups: Are Dads Welcome?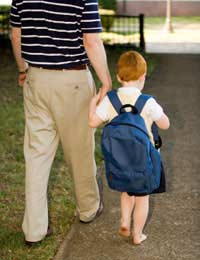 Househusbands are not particularly rare any more. According to the government's Office for National Statistics, there were 189,000 of them in the UK by the start of 2008. It would seem sensible to assume, therefore, that any dad turning up at a parent and toddler group would have a host of other dads to mingle with.
Until, that is, the number of housewives is thrown into the equation. At present, there are 2,049,000 of them in the UK, and that means the housewives outnumber the househusbands by almost 11 to one.
Perhaps that is why there are still many mother and toddler groups when political correctness dictates that they should be called parent and toddler groups. Whatever the label, it is always made clear that dads will be made welcome.
Dads Welcome
And the truth is that dads are made welcome. In many respects it is easier to be a man in a woman's world than vice versa. It is not hard to imagine, for example, an elite golf club opening its doors to women for the first time and members of the fairer sex being made to feel about as welcome as a cockroach in a salad.
That is not to say the first trip to a mother and toddler group is a completely cringe-free experience for a dad. Initially, he can be viewed as a bit of an oddity. He will be watched closely to make sure he holds the baby the right way up and has at least a vague knowledge of what he's doing. Then there may be some gentle verbal prodding.
However, once the dad explains how it is that he came to be a househusband and gives a full report on how he is handling the task, he will be accepted as one of the tribe. He may be the only househusband at the group – the other 188,999 always seem to be elsewhere – but after a while that ceases to be an issue.
Baby Talk
Of course, there will be times when the conversation takes a turn for the worse, perhaps to focus on a pair of black heels for sale in Debenhams or a new diet plan featured in Cosmo. It is unlikely that the previous night's football will be high on the agenda, but most of the chat will be of interest to househusbands because it will be about babies.
It is important that househusbands take the plunge and go along to their local mother and toddler group. For a start, children tend to find one another fascinating and the interaction is a crucial part of their development. Also, while the easy option is to chicken out, the househusband will be grateful for the adult conversation.
Join In
Some of the activities, which mostly involve singing, dancing and playing the fool, may be a touch embarrassing at first, but very quickly all remnants of self respect have gone and joining in becomes much easier.
Eventually the day will come when the conversation turns to another favourite for women everywhere - the general uselessness of men. At that moment, as his gender is shredded by the piercing insults, the househusband will know in his heart of hearts that he has been accepted into the group. He is no longer considered a man, but a mum. A little worrying, perhaps, but satisfying nonetheless.
You might also like...