Part-time Work as a Househusband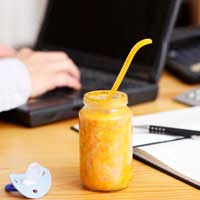 Make no mistake, being a househusband is a full-time role. A stay-at-home dad is on call from early in the morning until early evening, and may even be called into action during the night. Trying to fit paid work into this routine is not easy.
If he's not changing nappies, feeding, washing, dressing or entertaining the child, a househusband will be doing household chores, such as laundry, washing dishes, sweeping floors, vacuuming and dusting. Yet, despite these demands, there can be a strong desire to find part-time work.
There can be a variety of reasons for this. Maybe the househusband is keen to boost the family budget at a time when it will be stretched to the limit. It could be he plans to return to full-time work at a later date and wants to keep his hand in. Perhaps the thought of being cocooned in a world of bibs, nappies and feeding cups - detached entirely from the outside world - is just too much.
Finding the Time
The first problem faced is finding the time to do the job. Any free time a househusband has tends to be in the evenings, when the baby is in bed, and at weekends, when a partner can step into the role of child minder. The second problem is that not too many jobs fit in with those working hours.
Finding work that can be done from home is, in many respects, the best solution. The internet has made working from home a real option for people in a wide range of industries. It may mean a househusband working on assignments during specific time slots, or being available on call when work needs to be done.
More employers are offering this type of work. It cuts down on their overheads - because home workers do not require office space - and people who work from home have been shown to be more productive.
Get the Skills to Work from Home
Not everyone will have the skills required to work from home. Obviously it's not possible for a construction worker to continue his career part-time from his bedroom, but the internet does give those determined to work the chance to retrain. Courses on running an ebusiness, public relations, book-keeping, writing or website design can all lead to jobs based at home.
Just as important as finding the right job, is finding the right balance for family life. Remember that a full-time househusband with a part-time paid job is, in effect, trying to fit one-and-a-half jobs into the working week. This will leave precious little or no time to spend with family and friends, and a partner can start to feel she is a little too low on the list of priorities. All these factors should be taken into consideration and discussed before a househusband embarks on his new, part-time career.
An alternative is to be a part-time househusband and rely on a nursery to look after the child for part of the week. This will undoubtedly free up more time for a paid job, but, as nursery fees will eat up most of the earnings, it's false economy. And besides, does this not defeat the whole purpose of being a househusband?
You might also like...