I'm a Dad at Mother and Toddler Group: A Case Study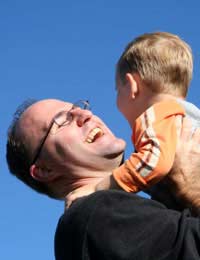 When his wife's maternity leave came to an end, stay-at-home dad Paul Atkinson was left to take their eight-month-old son to the local mother and toddler group. It was a daunting prospect at first, but now father and son are regulars at the group and both have made some good friends.
"While my wife was pregnant, we decided that she would return to work and I would look after the child," said Paul, a 27-year-old from Birmingham. "It was a fairly easy decision to make because she earned an awful lot more than I did."
"During her maternity leave, my wife attended a post-natal group and made friends with five other first-time mothers. When the post-natal group came to an end, after around 10 weeks, these six mums decided to stay in touch and meet every week at a soft play centre."
Role Reversal
"When the time came for my wife to return to work, she was already really good friends with these other mothers and had become very fond of the other children too. I had met the mums a couple of times at christenings and they agreed that I could take my wife's place and take my son along when they met up."
"It was a little bit daunting initially and a little bit strange. Unlike my wife, the other mums had either given up work altogether or returned part-time and, unlike me, all the other dads were in full-time employment. I was aware that our arrangement was very different and, as a result, I wasn't too sure how I would be seen."
"What made it a lot easier is that we all had something in common – because we were all raising a young child. There was always plenty to talk about and every week the couple of hours we spent together just flew by as we swapped stories, advice and experiences."
Made Welcome
"Maybe I am lucky, in that the mums I meet up with have made me feel very welcome. We still meet every week and the children are now coming up to their second birthdays – and another round of parties. Every month or so, the mums meet up on a weekend and that allows my wife to go along and stay in touch too."
"There are other dads at the soft play centre, although not too many. At first, I expected to be drawn to the other dads, thinking that we would have more in common. But the truth is that I have never spoken to any of them – I'm too busy chatting to the other mums and the children. My wife jokes that I'm now just one of the girls!"
"By far the most rewarding part of the whole experience is seeing how close the children are becoming. Even at this tender age, they recognise and greet one another and are clearly pleased and excited to see one another. It's great to see and we all hope they are forming friendships that will last for a long time. It makes me so glad that I made the effort to go along to the group, because I know my son would be missing out if I had bottled it and stayed at home."
You might also like...