Sleep Deprivation Nearly Drove Me Mad: A Case Study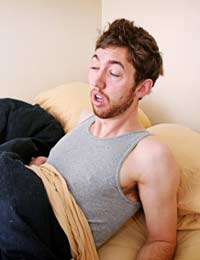 Unbridled joy at becoming a father for the first time turned to feelings of inadequacy, misery and despair within a year for Gareth Appleby. Try as he might, Gareth was not able to get his son to sleep at night and, as the weeks and months passed, he feared his own health and sanity might start to suffer.
"Any new parent has to be prepared to lose a certain amount of sleep – that goes with the territory," said Gareth, a former transport manager who quit his job to look after his son Jack. "In hindsight, I suppose Jack was always a bit restless, but I didn't think it was a problem at first. I knew babies cried a lot and, although I was getting very little sleep, I was running on a mixture of euphoria and adrenalin."
The real trouble started when Gareth's wife Lorraine, an accountant, returned to work after maternity leave. "We had been taking it turnabout to get up during the night with Jack," explained Gareth. "That wasn't possible once Lorraine was back at work, because she wouldn't have been able to do her job if deprived of sleep."
Walking About Like a Zombie
"Within a week, Lorraine had moved into our spare room, because I was up and down with Jack so often that it was impossible not to disturb her. Within a fortnight, I was walking about like a zombie and Jack was still hardly sleeping during the night. Within a month, I had taken Jack to see our GP because I thought there might have been some medical explanation for his inability to sleep during the night.
"Of course, Jack was perfectly healthy. It was a great relief, but at the same time I had become so starved of sleep that I swear a tiny part of me felt a twinge of disappointment that there was no medical problem that could just be fixed to give us all a good night's sleep. The thought only crossed my mind for a fleeting moment, but it was long enough to add guilt to the feelings of desperation and inadequacy I was already burdened with.
"I left the GP's with a pamphlet crammed with ways to get babies to sleep. Unfortunately, there was nothing we had not already tried. Although it was our first child, we weren't totally naïve. I knew I shouldn't allow Jack to sleep for too long during the day, but I was so shattered – and he must have been too – that rather than deny him sleep during the day, I joined him."
Nightly Ritual
"Every night I went through a ritual to try to get Jack to sleep. I made sure he wasn't thirsty or hungry, that his nappy was dry, that he was not too hot or too cold and that his sleep suit was not too tight. He was gently rocked, we used a low night light in his nursery and then no light, played soother tapes, gave him a warm bath, tried different mobiles and cuddly toys and even gave him a dummy – something we didn't want to do.
"Nothing worked. I was starting to feel really low, and my lack of sleep was definitely putting a strain on our marriage. Just when I was convinced I was going round the twist, Jack – very much in his own time – began to sleep more at night, but he was well over a year old before he started to sleep through the night. He's coming up to his fourth birthday now and is a happy, adorable little boy who goes to bed with no questions asked. I must say, it is bliss, and we do know how lucky we are.
"It has had a lasting effect, though. We want to have another child, and still plan to, but initially we wanted the children to be just two or three years apart. At one stage, we were convinced we would never have another child, but as time passes we are warming to the idea again. It may be soon, but we don't feel quite ready yet."
You might also like...