Playtime: Keeping Your Child Amused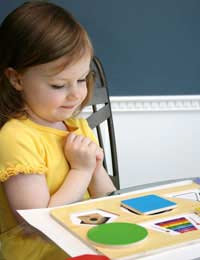 Keeping a toddler amused is child's play, and with a little effort playtime can be educational too. The secret is to pick activities that build on a child's previous knowledge, experiences and interests. A stay-at-home dad is his child's first teacher and has an important role in building the foundations for future success.
Above all, playtime must be fun. Children should be encouraged to learn at their own pace, without pressure, and dads should celebrate a child's achievements, no matter how small.
Toys can help, but good toys need not be expensive ones. A cardboard box can become a train, boat or space rocket, while old shoes, hats and handbags can be used for dressing up as a doctor, fire fighter or scarecrow. Water, sand, blocks, shape-sorters, puzzles, crayons and paints can all help a toddler learn, while many children like to imitate their parents and will appreciate a toy tea set or tool set in order to copy mum and dad.
Educational Tools
Parents themselves may not be aware of how effective different types of play can be as educational tools. For instance, a child's communication skills can be developed through role-play, song, rhymes, storytelling and art. A child's writing skills will develop as they learn to control crayons, pens and pencils and then start to understand the meaning of the symbols and words they are creating.
Many toddlers love to have the same book read to them over and over again. Books with plenty of objects to name or hidden objects to find are popular, and the more a dad reads to a child, the quicker the child will take the next step and learn to read when a bit older.
An understanding of mathematics will develop through daily experiences of quantity and numbers. Children will start counting people, toys or how many chairs are needed for everyone to sit down long before they learn how numbers relate to one another. Later a child will learn that mathematics is not just about numbers and start to understand measurement, problem solving, shape, sorting and classifying.
Space and Volume
Playing with measuring jugs, funnels and bottles in sand and water provides opportunities to explore space and volume, while construction blocks can be used to solve practical problems. Cooking offers a chance to explore weights and measurements and can provide a tasty reward.
A simple walk in the park can be three lessons rolled into one for a toddler. A child's understanding of geography will begin with their local area and what can be seen within that environment. By observing, investigating, questioning and predicting, a child is starting to develop scientific skills, and changes over time give children their first scraps of historical knowledge and allow an understanding of cause and effect.
Of course, all children are different but, as a general guide, most toddlers of a year old will be able to wave bye-bye and search for a lost toy because they can remember it. At 18 months, most toddlers can point to their eyes, mouth and nose when prompted, or return to a game if interrupted.
At two years, toddlers can post simple shapes through holes and remember when to do things such as fetch a book for story time. By three years, toddlers can complete large piece jigsaws and act out versions of the real world, for instance pour a cup of pretend tea or take toys for a ride.
You might also like...