Questionnaire: Stay at Home Dad Basics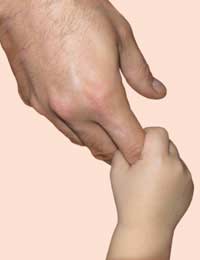 There is a lot for a stay at home dad to learn when a baby joins the family and learning from your mistakes is not always an option. When looking after a baby, a househusband has to get it right first time to ensure the infant comes to no harm.
Much of the knowledge required is little more than commonsense. Babies cry to let you know when something in wrong and then it is just a matter of working out what can be done to put the baby at ease again. If you feel ready to take your first baby steps, take our quiz and find out how much you really know.
Questionnaire
Question 1 – No Sterilised Bottles to Hand?Your bottle-fed baby has woken up hungry in the middle of the night, but there is not a sterilised bottle to hand. Should the dad:
a) Wash the bottle thoroughly and feed the baby before he gets too distressed?
b) Wash the bottle thoroughly and sterilise the bottle, even though it means the baby having to wait?
c) Put the baby back in his crib and hope he falls asleep?
Question 2 – Hours Since Last Nappy Change? It has been four hours since the baby's nappy was changed, but he seems content nevertheless. Should the dad:
a) Change the nappy anyway?
b) Wait until the baby cries to let him know it's time for a new nappy?
c) Wait until the baby has a poo, as it's not worth changing a nappy that is only wet?
Question 3 – Depth of Baby's Bath Water?It's time for the baby's bath and temperature has been checked to ensure the water is warm but not too hot (38 degrees Celsius or 100 degrees Fahrenheit is perfect). How deep should the bath be in centimetres?
Question 4 – Putting Baby to Bed After Hard Day At Work?Your partner comes home after a hard day at work and offers to bath the baby and get him into bed. Should the dad:
a) Tell her to put her feet up and let him handle it?
b) Help out and make sure she knows what she's doing?
c) Let her get on with it and put his feet up?
Question 5 – Despite the fact that his every need is being catered for, the baby is crying for up to three hours every day. Should the dad:
a) Take the baby to accident and emergency to find out what is wrong?
b) Make an appointment with a GP to discuss the problem?
c) Do nothing?
Answers:
1. B - If a bottle is not sterilised it can make a baby ill, so always sterilise the bottle before feeding the baby.
2. A - It's no fun sitting in a wet nappy. A baby should be changed every two or three hours during the day and immediately after doing a poo. Wet and soiled nappies can cause nappy rash as well as being uncomfortable for your baby.
3 B - For a small baby (under 6 months) the water should be deep enough to cover the shoulders when the baby is settled in a semi lying down position with your arm firmly under his shoulder and head. Over the age of 6 months or once your baby can support his own back, the water should be no higher than his belly button. Never ever leave a baby in the bath unattended - not even for a few seconds.
4. C - It's important for mother and baby to spend quality time together, so don't intrude. Offering advice, even though well meaning will definitely offend unless it's sought.
5. C - Even perfectly healthy newborn babies will cry between one and three hours every day. Once you get to know you baby you'll start to recognise the different complaining noises your child makes and you might be able to establish the difference between cries that indicate whether baby is uncomfortable, in pain or simply wants a cuddle!
You might also like...