Bathtime: How to Bathe Your Child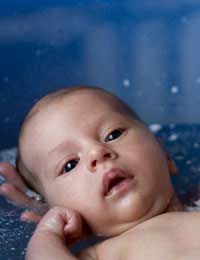 There are few substances known to man as slippery as a wriggling baby covered with soapy water. Certainly four hands are better than two when trying to get to grips with such a tricky customer, and that is why it is better, whenever possible, for both parents to share the delights of bath time.
Some parents bath their babies every day and make it a part of the bedtime routine from a very early age, but a daily bath is not really necessary until a baby is crawling around. Bath time can be a lot of fun for parents and babies, but the overuse of strong soaps, cleansers and even tap water can damage the skin of newborns.
Seek out mild soaps designed specifically for babies or pH-neutral cleansers and use sparingly in the first few weeks. To keep a baby sparkling between baths, clean the genitals and bottom after each nappy change, wash the face and hands frequently and thoroughly and clean off any other obvious muck.
Baby Bath
There are a variety of products available now to assist parents at bath time. It is wise to invest in a small, plastic baby bath or to use the kitchen sink instead of the family bath, as parents have to kneel down or lean awkwardly over a standard-sized bath and will have less control over their baby's movements. However, baby bath seats are now available that fit into the family bath and make it easier to hold the baby. Whatever option is taken, babies must never be left on their own in the bath, even for a few seconds.
To make bath time as straightforward as possible gather together all the accessories needed. These will include baby cleansers or soap, baby shampoo, a clean flannel or sponge, any bath toys and a dry towel. This is particularly important if the stay-at-home dad has been left to do the job himself, as the baby cannot be left alone once in the bath.
The room should be warm and the bath about 38 degrees Celsius or 100 degrees Fahrenheit - warm and comfortable but not hot. For babies under six months old, the water should be around five inches or 13 centimetres deep, enough to cover the shoulders when the baby is settled in the bath. For older children who sit in the bath, the water should never be more than waist deep.
Use Soap Sparingly
Undress the baby at the side of the bath and use one hand to support the head and neck as the baby is gradually lowered into the bath. Use soap or baby cleanser sparingly and wash the baby using a bare hand, sponge or flannel. Wash the scalp with a wet, soapy flannel or use only a tiny drop of baby shampoo. Moistened cotton wool is gentle enough to be used on a baby's face and around the eyes. If any mucus has dried in corners of the baby's eyes or nostrils, dab it repeatedly with moistened cotton wool to soften it before it is wiped away.
Rinse the baby thoroughly with a clean flannel and then wrap the baby in a warm, clean towel. Pat dry and, if the skin is dry or there is nappy rash, consider using a mild moisturising lotion before getting the baby dressed.
Most babies will find the warm water very soothing, but, of course, not all babies are the same and some may cry when put into the water. If this is the case, the baby may feel more secure if wrapped in a warm flannel before being lowered into the water.
You might also like...