Feeding Your Baby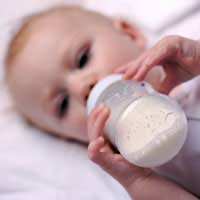 If parents agree that 'breast is best' then stay-at-home dads are quite obviously lacking the necessary equipment to feed a baby. This will not be too much of a problem if the working mum has a good amount of maternity leave. If the mum is returning to work soon after the birth, however, it can prove tricky.
Using a breast pump is an option, but not a great one as it will mean the mum pumping while at work. Breast pumps require mums to simulate the baby's feeding schedule as closely as possible, which means expressing milk when the baby would usually feed. This can be difficult in some jobs and near impossible in others. Bottle feeding, or using a mix of breastfeeding and bottle feeding, is a possible solution.
There are, of course, many advantages to breastfeeding and exclusive breastfeeding is recommended for the first six months of life because it provides all the nutrients a baby needs. Breast milk is natural - the food specifically designed for babies - and changes as babies grow to provide exactly what they need.
The Benefits of Breastfeeding
Breastfeeding helps protect babies from infections because antibodies are passed into the milk, and breastfed babies are five times less likely to be admitted to hospital with infections such as gastroenteritis and respiratory infections. Breastfed babies are less likely to suffer with constipation and allergies like eczema or become obese in later childhood, and breast milk contains growth factors and hormones that help the baby develop.
There are benefits for mothers too. Breast milk is free and there is no need to sterilise bottles, prepare feeds or keep the baby waiting. Mums can breastfeed anywhere at anytime and it is easier than bottle-feeding in the middle of the night. A mum's womb will return to normal size more quickly, she will burn more calories and breastfeeding reduces the risk of pre-menopausal breast cancer.
Yet practicalities must be taken into account too, and the one big advantage to bottle-feeding is that fathers can feed the baby and give the mum a break. Bottle-feeding can seem like hard work at first, as all the equipment must be washed and then properly sterilised, instructions must be followed to ensure the correct mix of formula and water, and the temperature must be tested.
Follow the Rules
If a bottle is dirty it can make a baby ill, and heating a bottle in the microwave can scald a baby's mouth, so the rules must be followed, but once into a routine the process becomes second nature.
Whatever option parents choose, by the time a child is six months old milk alone will not provide enough nutrients. It is recommended to wait until six months to introduce solid foods into a baby's diet to minimise the risk of adverse reactions to foods and allergies.
If parents decide to wean a baby onto solids before six months, gluten, fish, shellfish, eggs, cheese and dairy products should be avoided and no solid foods should be introduced before a baby is four months old.
You might also like...