Finding a Babysitter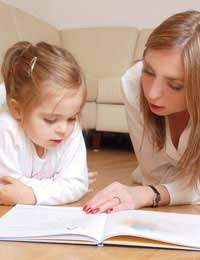 It's easy for parents to turn into social lepers. The invitations dry up when the baby arrives and those that do drop through the letterbox are turned down because there is no-one available to look after the children.
Of course, some parents are lucky enough to have family and friends forming a queue to take turns looking after the children, but for many this is not the case. The alternative is to employ a babysitter, but it is a huge step for parents to trust the wellbeing of their child to a stranger.
Rather remarkably, while children who work in shops or deliver newspapers are covered by health and safety law – principally the Health and Safety (Young Persons) Regulations 1997 – babysitters fall outside these laws. In the absence of legislation, both the National Society for the Prevention of Cruelty to Children and the Royal Society for the Prevention of Accidents recommend that no-one under 16 years of age should be left to care for an infant.
Training Programme
The British Red Cross runs a training programme for babysitters and participants must be 14 years old by the time of their final assessment, but any parent who employs a babysitter under 16 can, under some circumstances, be charged by the police with negligence if anything goes wrong. So when choosing a babysitter, a stay-at-home dad should:
Follow his instincts and if in doubt say no.
Ask for a minimum of two references and contact the referees.
Choose a babysitter over 16 years old.
Listen to his child and discuss any babysitting issue the child is unhappy about.
Find someone else if the child is unhappy about a particular babysitter.
Do not fall into the trap of employing a babysitter simply because the person means well and genuinely likes children. The babysitter must be a competent person with experience of young children and first aid skills, and should be mature, reliable, honest, responsible, capable, tolerant, kind but firm and patient.
Parents must provide the babysitter with contact details for where they will be, as well as a list of people the babysitter can contact if unable to reach the parents. Also ensure the babysitter knows how and when to call the emergency services if necessary.
Encourage the babysitter to visit and spend time getting to know the child and the layout of the house. Discuss the child's progress and give the babysitter enough information to cover every eventuality, including the child's routines and bedtime.
Set Rules
Never leave a babysitter to cope with a sick or upset child that is unlikely to settle, or with several children for long periods of time. Set rules regarding the babysitter having friends over, ensure the babysitter knows where everything is - especially the telephone and first aid kit - and provide sufficient refreshments. Get home when expected, or if running late inform the babysitter as soon as possible, and if unhappy about any aspect of the care provided, discuss it with the babysitter.
It is useful if friends or family can recommend a reliable babysitter in the area, but ultimately parents must trust their own instincts when choosing a person to look after their children. Once the decision has been made try to relax and, if at all possible, enjoy the night out.
Dad At Home is sponsored by Purely Energy, who have funded a lot of our content. If you are looking for a low cost business energy supplier, take a look at their website.
DAD AT HOME IS FOR SALE.
This website is for sale [more info].
You might also like...