Househusbands and a Social Life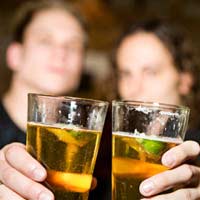 If he is not careful, a stay-at-home dad's social life can disappear faster than his savings once his child is born. Without the appropriate action, it is entirely possible that a dad's social life will be eclipsed by that of his own child by the time of the infant's first birthday.
By then, playgroup friends will have invited the child - accompanied by parents, of course - to a series of christenings and soon after the birthday party invitations will start to come flooding in. Meanwhile, the few dads who can still afford a social life have no time for one.
At first, it can be difficult for parents to know where to turn to salvage the remnants of their once crammed social schedule. Friends without children will not understand the demands of parenthood and may find it hard to take if a househusband has no choice but to turn down invite after invite. When a rare opportunity for a night out does appear on the horizon, a dad may find the invitations have long since dried up.
Happy to Mingle
Friends with children are likely to be more understanding, having gone through the same experience themselves. As their own social lives have probably taken a nosedive due to parenthood, these couples will be happy to have fellow parents to mingle with.
While this is a social life of sorts, it can be very different to the one many men knew before becoming dads. There will be no more booze-soaked weekends with mates, or a few pints after the football on a Saturday followed by a night of clubbing.
Instead, social activities will tend to revolve around the children. It may mean trips to the park, zoo or local swimming pool, but certainly nothing more riotous than a glass of wine with lunch at a licensed café or child-friendly restaurant.
School Gates
New friendships, once formed at work, sporting events or concerts, will now be created at parent and toddler groups, supermarkets or the school gates. A new dad's social life is not necessarily better or worse, but it can be very different and he has little choice but to come to terms with it.
Whether it is intentional or not, and in most cases it is not, couples with children will find that most of their new friends are couples with children. It's not that they lack the adventure of childless couples, it's just that instead of getting their kicks out of sky diving or bungee jumping, parents get an adrenalin rush by trying to get a potty-training toddler to the toilet before it's too late.
Rather than fight it, a dad should try to embrace the change in his social life. Try to host a toddler-friendly dinner party or invite the grandparents to stay and catch up with friends while they are left holding the baby. If a dad makes the most of the few nights out that come his way, he will soon realise that it's quality and not quantity that counts.
You might also like...