Planning Family Holidays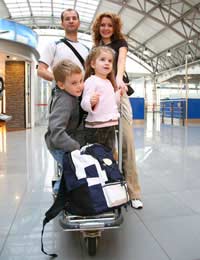 Holidays give families the chance to spend time together, away from the daily grind of work and school, and create a bank of happy memories. Even just planning a holiday can give everyone a lift.
The skill is finding a holiday that will cater for everyone's needs. A working mum might want a relaxing rest on a sun-kissed beach in Barbados, while the children are desperate to fly to Florida and visit Disney World and the stay-at-home dad fancies an African safari.
It is important to involve the children in these negotiations. Listen to each person's point of view, distinguish between needs and desires and find a compromise acceptable to all. Easier said than done, perhaps, with different age groups and interests involved. The trick is to make the children feel as though their view has had a significant impact on determining the type of holiday the family chose, while the parents retain the decisive role.
Planning a Family Holiday
If done well, these family negotiations can allow the family to benefit from the positive effects of planning a holiday. It has been shown that even the anticipation of going on holiday can impact upon emotional wellbeing. Those who know when they are going on holiday tend to be much happier with their lives as a whole and in particular with their family, financial and health status.
Then there are the financial limitations to be taken into account. The heart may say South America when the bank balance says Center Parcs. Children at school may complain that everyone else in their class is jetting off to exotic locations while they are having to make do with a caravan site in the Lake District. What is probably closer to the truth is that the globe trotters are making more noise about it that those heading for more modest holiday destinations.
Parents may not want to tell their children that they will be spending two weeks in Blackpool because they cannot afford to go to Las Vegas. But part of the parenting role is to make children financially literate and the funding of a holiday may help to introduce children to the ideas of budgeting, saving, and appreciating the value of money.
Holiday Fears
Although most children will be thrilled by the prospect of going on holiday, some may be a little worried and there can be various reasons for this anxiety. A child may be concerned about what will happen to a pet while the family are away, but a daily text from the kennels may be enough reassurance that all is well.
If a child is apprehensive about the journey, food or change in environment, a detailed look at the brochure, trial run to the airport or some ethnic takeaways can provide the answers. Young children may struggle with the concept of time, but marking departure and return dates on a calendar can allay fears that the holiday represents some kind of permanent move.
Whatever the fear, it is better met head on and dealt with, as avoiding it will only maintain or even extend that dread. So rather than cancelling plans, give an anxious child plenty of reassurance and talk about the fun and excitement that lies ahead in a positive manner.
You might also like...