Househusbands and Work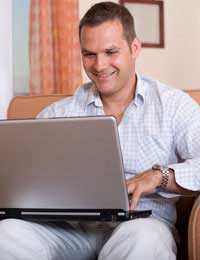 At first, a stay-at-home dad may feel there are not enough hours in the day to get through the household chores and look after the children at the same time. The thought of taking on some additional, paid work to bolster the family coffers will seem masochistic. Yet, given time, a dad can establish a routine that will allow him to combine his househusband role with a part-time job.
The key is to have a supportive partner. Most working mums will want to spend as much time as possible with their children on days off. This can give stay-at-home dads a chance to earn some extra income, although the right type of work has to be found.
Obviously the number one priority for a stay-at-home dad is the wellbeing of his children. Keeping the home clean, safe and well-stocked is important too, and there is no point even considering a job that will interfere with these tasks.
Working Hours
Any free time a househusband has tends to be in the evenings, when the baby is in bed, and at weekends, when his partner can fill the role of child minder. Later, when the children are old enough to attend nursery or school, a stay-at-home dad may find he has more time on his hands. Nevertheless, few jobs will fit in with those working hours, and finding work that can be done from home is, in many respects, the best solution.
The internet has made working from home a real option for people in a wide range of industries. It may mean a househusband working on assignments during specific time slots, or being available on call when work needs to be done. More employers are offering this type of work. It cuts down on their overheads - because home workers do not require office space - and people who work from home have been shown to be more productive.
Not every dad will have the skills required to work from home, but the internet does give those determined to work the chance to retrain. Courses on running an ebusiness, public relations, book-keeping, writing or website design can all lead to jobs based at home.
Free Time
Once an appropriate job has been found, a stay-at-home dad will, in effect, be trying to fit one-and-a-half jobs into the working week. Always remember that looking after the children and doing the household chores are the main priorities. The paid work can be fitted in to any free time in a househusband's routine, perhaps while the children take a nap, in the evenings or at weekends.
The extra time needed for part-time work can mean a househusband and his partner get to spend precious little time with one another and this can put a strain on the relationship. Try not to become too reliant on the househusband's extra income and instead think of it as a bonus. That way, if the work becomes too much or the househusband feels he needs to spend more time with his partner, family or friends, the loss of income will not be too drastic.
You might also like...