Being Involved in Your Child's Education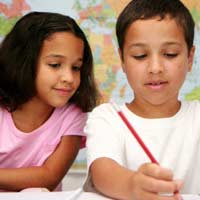 A stay-at-home dad is ideally placed to influence, inspire and encourage his children, so he should not make their education the sole responsibility of a school. By communicating with children, a dad can discover what they have been learning at school, discuss progress they have made and help them set realistic goals for what they would like to achieve next.
Work in partnership with the school and use written reports, parents' evenings, meetings and a child's homework to keep up to date with the progress being made. Remember too that it can benefit children's education if the school knows what they enjoy doing at home, so tell the school about activities the children are involved in outside school and any goals they may have, such as learning music, playing sports or gaining badges and awards through other organisations such as scouts or girl guides.
Share views on how a child is coping with school work and homework and pass on any other issues or stresses that may affect learning, like an illness or death in the family or moving home.
Talk About Goals and Targets With Your Child
While regular contact with the school is important, it is even more crucial to talk regularly to children about their goals. Ask what their goals mean and how they will know when they have reached them. Praise them when they have been successful and encourage them to keep persevering when they find it difficult.
By communicating with children and their school effectively, a stay-at-home dad can help his children be more successful at school and improve their confidence and self-esteem. This is because children will:
Have a clear idea of what they are learning.
Set targets for themselves, so that they are personally involved in their own education.
Discuss how they will know when they are successful.
Realise when they have been successful and give evidence to back up their judgments.
Explain when they are having problems, without being embarrassed.
Set goals for personal development such as health and fitness and for interests outside school.
Gain recognition for successes in all aspects of their life.
Look at topics to be covered in the following weeks or term at school, so that a child is aware of what they are going to be learning. Set goals for the work to be covered, having discussed it with the teacher, and targets for personal learning and development, perhaps in sports activities or healthy eating. After a period of time, review the progress the child has made. Discuss goals with the teacher and decide if they have been achieved or not. Agree the next step, whether it be new goals, or what needs to be done to reach existing goals.
There are benefits for the stay-at-home dad too, as effective communication will provide more detailed information about a child's education, give a specific focus when talking about a child's learning and other aspects of school life, highlight successes a dad might not otherwise know about, inform a dad about areas which need support and provide opportunities to talk with teachers about specific aspects of a child's education. Teachers will get to know the children better too, and so will be more aware of their strengths and needs and can ensure the children are doing work more suited to them.
You might also like...