Keeping Old Friendships Alive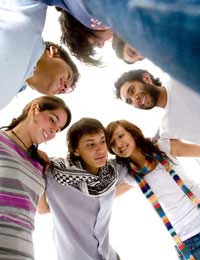 By the time a couple settle down and have children, the chances are they will have a wide group of friends from various backgrounds. Some friendships may have survived from school days, others will have been forged at university or work, and yet more at sports clubs, pubs, weddings and holiday resorts.
A stay-at-home dad may feel he has all the friends he could possibly need, but he would be wrong. What a househusband needs now, more than anything, are friends who are parents. These are the friends who will understand exactly what he is going through, because they are going through the very same. They can offer advice, support and empathy.
For some reason, it tends to be very easy to meet such friends. Perhaps the enormity of the life-changing event these couples are going through makes it easier to cast aside inhibitions, or perhaps there is little to do at prenatal classes and postnatal groups other than talk. In time, a stay-home-dad will make more new friends - mainly mums - at playgroups, baby swimming classes, nursery and the school gates.
Parents Who Brag About Their Child...
These blossoming friendships can be threatened when, whether deliberately or inadvertently, parents advertise how well their offspring are doing. The opportunities for one-upmanship are almost limitless. If one child is walking at 10 months old, there is bound to be a parent whose own offspring dived out of the pram with a reverse two-and-a-half somersault pike and danced a jig when only two months old.
Showing off can reach even more ridiculous levels when the time comes to throw a birthday party. Plans that initially included pin the tail on the donkey and pass the parcel, can quickly evolve to include bouncy castles, funfair rides, haunted houses and a team of children's entertainers if parents are not careful. Try to avoid such silly one-upmanship and make allowances for others, as it seems many parents are so proud of their children that it drives them near to insanity.
Old Friends
Don't forget about old friends either. Those without children will struggle to understand the demands of parenthood and may be offended when a stay-at-home dad has no option but to turn down invite after invite. It will simply not be possible for a househusband to look after the baby, do the household chores and maybe a part-time job from home and dedicate the same amount of time to his friends into the bargain.
Instead, watch out for rare opportunities to meet up with old friends, perhaps when a partner is willing to take over the childcare duties or grandparents are available to look after the baby, and make plans in advance. When the time comes, make the most of it.
It is inevitable that some friendships will fall by the wayside. People move on and that's life, but don't be too surprised if some old friends come calling years down the line - when they have started a family of their own. By then a stay-at-home dad can be there to provide all the advice, support and empathy they need.
You might also like...