Questionnaire: How Do You Cope With Temper Tantrums?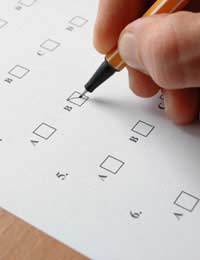 From time to time, a toddler's angelic façade is cast aside and a sudden, theatrical outburst is sparked by the slightest provocation. These temper tantrums can take place anywhere at any time, causing parents to feel embarrassed, inadequate and unable to cope.
The trigger can be the child being denied something they want, rebelling against authority, feeling bored, becoming frustrated by their limited skills, resenting unfair treatment, feeling ignored, failing to communicate what they want or resenting other children infringing on their territory.
Questionnaire
There is no one solution that will put an end to all toddler temper tantrums and when it comes to dealing with a tantrum, a lot depends on what triggered it in the first place. Househusbands can take our quiz to find out if they are ready to cope with the terrible twos.
1 – A stay-at-home dad is having a conversation with another adult when his child starts to scream and stamp his feet. Should the dad:
a) Give the child the attention they so obviously craves?
b) Ignore the child and, if possible, leave the room?
c) Tell the child to behave and stop screaming?
2 – A child has ignored one of the rules laid down by their dad and is playing on the stairs. When told to stop, the child throws a tantrum, so should the dad:
a) Allow the child to play on the stairs, but keep an eye on them to make sure they do not hurt themselves?
b) Shout at the child until they do what they are told?
c) Take the child to their room and explain the potential dangers of their actions?
3 – A child is frustrated by their inability to complete a puzzle and throws it across the room. Should the dad:
a) Explain that the behaviour is not acceptable, but then help the child to complete the puzzle?
b) Tell the child it is wrong to throw toys about and ignore them until they calm down?
c) Complete the puzzle for the child?
4 – A child is having a bath but has decided they do not want to have their hair washed and starts to scream, splash and wriggle whenever thier dad attempts to wash their hair. Should the dad:
a) Give up and try to wash their hair again tomorrow?
b) Go ahead and wash their hair, regardless of how much they scream?
c) Tell the child they can play with their bath toys if they behave and have their hair washed first?
5 – A child is rolling around on the floor of a supermarket because they have been told they cannot have the chocolate bar that they want. Should the dad:
a) Walk away to deny the child an audience until they calm down?
b) Distract the child with a healthier food they enjoy?
c) Give in and buy the chocolate bar?
Answers
1. b. The child will thrive on any attention, even negative, so it is better to deny the child an audience.
2. c. First get the child away from any potential danger and then, once the child has calmed down, explain why they are not allowed to play on the stairs.
3. a. When a child is frustrated by their limited skills, try to show them that they can succeed with patience and perseverance.
4. c. Introducing a reward system can get a child interested in an activity.
5. b. It's not safe to ignore a child's temper tantrum and walk away when in a public place, so try to distract the child by switching their attention to something else.
You might also like...