How to Cope With Sibling Rivalry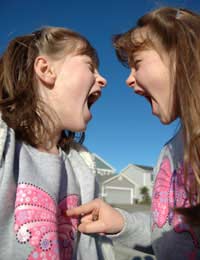 One of the toughest challenges a stay-at-home dad can face is dealing with siblings who argue and fight a lot. Sibling rivalry is a part of growing up and developing relationships and when the love and attention of a parent is at stake, the rivalry can be a fierce one. Nonetheless, many parents find the frequent fighting and arguing between their children difficult to understand.
A dad must try to be even-handed from the start and show each child the same levels of love and discipline, while recognising that different personalities and temperaments will call for different methods of parenting for each child.
No two children are ever exactly alike and children change and develop as they grow, but comparing children and wishing one were more like another will only exacerbate any rivalry already developing. Instead, these differences should be celebrated. Remember too that some siblings can fight non-stop as youngsters and grow up to be the best of friends, although there is no guarantee this will happen.
When to Step in
It is not only physical fighting that a househusband must control, as teasing and baiting can be just as unpleasant and should be stopped. Do not charge in at the first sign of trouble, but listen in, wait and see if the children themselves can resolve the conflict before the fighting gets too serious.
If it is clear that one child is picking on the other repeatedly, this has to be dealt with accordingly, but unless it is a clear-cut case, a stay-at-home dad should not get involved in a drawn-out debate about who was at fault. It is never easy to get to the truth and children should be discouraged from telling tales on one another, so it is better to defuse the argument without taking sides.
Find a way to divert the children's attention, either by going outside for a change of scene or with a game or activity. When the fighting is an attempt to gain attention, the best thing a dad can do is not give it. When children just won't stop fighting, the only solution is to separate them for a while. Put them in separate rooms until they have calmed down.
The Age Gap Between Children
A lot of parents spend time wondering what might be the ideal age gap between siblings, but the truth is that there is no ideal age gap. Less of an age gap can bring children closer together … or it can result in frequent fights for toys and their parents' attention.
What is more important is that a stay-at-home dad can spend quality time with each of his children individually. It is inevitable that the second child and subsequent children will not get as much attention as the first child. This is unavoidable, but do make an effort to find out what each child likes and is interested in, and cater for each child's individual personality and strengths.
Do things together as a family as well, of course, but make sure these activities can be enjoyed by each and every members of the family. A younger child will not appreciate being forced to keep up with older siblings and this will only lead to frustration and resentment.
You might also like...