Planning the Budget as a HouseHusband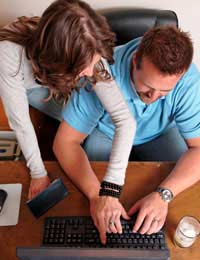 The first thing to remember when budgeting is that the needs of the children come first. A stay-at-home dad must make sure there is plenty of money for nappies, wipes, baby food, clothes and all the other essentials.
If on a tight budget, a househusband can make savings, as long as the baby is properly provided for. If buying disposable nappies or wipes, consider using a supermarket's own brand rather than a well-known name. These products are often of a comparable quality but can cost much less.
Some househusbands may want to consider washable nappies. Each baby will go through around 5,000 nappies before potty training and parents will spend about £1,000 on disposable nappies. Washable nappies work out at between £300 to £500 and can be reused for a second child. More work is involved in washing and drying these nappies, however, and this should be taken into account.
Shop Around for the Best Deals
It is easy to fall in love with a designer outfit for the young child, but children quickly grow out of clothes and househusbands on a budget should look at cheaper brands. There is a huge range of affordable clothes on sale at a variety of stores, so shop around and look out for sales and bargains.
Do not skimp on baby milk if using formula, but when a baby starts to eat solids it is cheaper for a househusband to make his own baby food than it is to buy jars. Use organic fruit and vegetables and give the child plenty of variety, gradually introducing pasta, rice and dairy products as the child gets a little older.
When buying items for the baby, consider what is really needed. Many of the items available are non-essential luxuries which will be disregarded within a few months. Do not assume that the most expensive products must be the best, as this is not necessarily the case. Many companies trade on their name, and it is often possible to find equipment that is just as good - if not better - a lot cheaper. Do not be too quick to rule out second-hand items either. Family and friends who have already had children might give or lend second-hand equipment or clothes.
Calculating Income
Be realistic when looking at what money will be available on a month-to-month basis. Write down all the outgoings, including mortgage payments or rent, gas and electricity bills, loan repayments, council tax, car fuel, television licence, telephone, credit card, food and clothes bills. Put aside a little extra to cover these bills, as a change in interest rates can quickly add to mortgage payments and fuel prices can escalate rapidly. When calculating income, remember to include money that will come from the government in the form of child benefit and tax credit.
If the numbers do not add up, parents must look at where savings can be made. If either parent smokes, now is the ideal time to quit. Mothers should not smoke during pregnancy anyway, and neither parent should smoke in the house with children living there. Cutting out cigarettes has health benefits and will boost the family coffers at the same time.
Parents will save some money without trying - as nights out will be few and far between once the baby arrives. Have a couple beers or glass of wine in the house instead. Cut back on buying CDs and DVDs and consider switching to free to air digital television channels in favour of subscriptions to satellite or cable television channels.
You might also like...