Essentials When Buying for Baby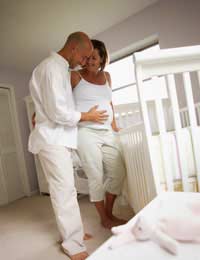 There can be a big difference between what parents need when a baby is born and what they want. It can be tempting to buy all sorts of expensive equipment, but those on a tight budget must make sure they have the essentials before splashing out on any extras.
The reality is that very little has to be purchased before the baby is born. Nappies are at the top of the list, as newborn babies will go through between 10 and 12 of them every day. Buy enough to last for at least the first few days, and even those who choose reusable nappies should have at least one packet of disposables to hand. Get a changing mat or a changing unit and plenty of baby wipes or cotton wool for nappy changing.
Half a dozen baby vests, sometimes called body suits, are essential. In very hot weather, a vest is sometimes all a baby needs to wear, but more often than not the vests will be worn under other layers of clothing. A similar number of babygros or all-in-one sleep suits will be needed too. Many babies tend to wear little else in their first few months apart from a vest underneath in the colder months.
Baby Essentials
A couple of cardigans can provide an extra layer of clothing, and a warm all-in-one suit is useful if the baby is born in winter. Parents will need a couple of soft blankets to wrap their baby in too.
Buy a Moses basket, crib or cot, a mattress that fits and a couple of bottom sheets (you will need more than two sheets as babies will vomit on the sheets or nappies will leak) and baby sleeping bag or cot sheets and cellular blankets. Those not willing to splash out on a baby bath can use a washing up bowl or a newborn bath support. Get a couple of soft, small towels and some mild baby cleanser too.
Breastfeeding mothers need nursing bras and breast pads, while parents who choose bottle feeding must buy bottles, teats, bottle brushes and sterilising equipment. For transport, purchase either a pram or a pushchair or buggy that has a lie-flat position and so is suitable for newborns. A rear-facing car seat will be needed if the baby will be travelling by car. Kiddicare have a fantasic range of child and baby car seats
Nice Extras
Anything else can probably wait until after the baby is born. Of course, as the baby grows, so will the list of essentials and most parents will want a few nice extras straight away, even if it is only a rattle, a soft toy and a mobile for the cot.
Of course, many parents spend thousands of pounds decorating and furnishing the nursery and get a great deal of pleasure doing so. That is a luxury available to those able to afford it, but parents should be wary of getting into debt unnecessarily at a time when finances will be stretched to the limit.
There are inexpensive ways to transform a room. Colourful posters or framed photographs of the new arrival can help and any member of the family able to knit or sew can provide clothes and blankets that will be special and unique or soft furnishings that are the perfect finishing touches for a nursery.
You might also like...