Keep the Romance Alive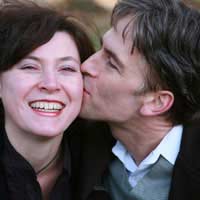 Ask a woman what's sexier, an alpha male breadwinner or a domestic drudge, and the answer is not likely to be good news for a stay-at-home dad. It's not a sexy image for a man, being a househusband, and career women who happily agreed to the arrangement can start to find their new man a turn-off.
Perhaps she has some deep-seated belief that the man should be the protector, or maybe she has started to resent the fact he is not pulling his weight financially. On the other hand, there may be a very real and noticeable change in her man.
A househusband's range of conversational topics can shrink when his waking hours are taken up with washing bibs and changing nappies, and he may have become dull and boring in the eyes of his wife. Also, a man's self-esteem can take a bit of a hit when he gives up his job to become a househusband. The role is a valuable one, of course, but if it causes his partner to lose respect for him it can put a strain on their relationship.
Effective Communication
The solution can be as straightforward as finding the time to communicate effectively. This is not always as easy as it sounds. With one parent in full time employment and the other's time split between raising the children and domestic chores, time is a valuable commodity.
If possible, get a babysitter and go out on a date once a week. Have fun, connect and remember why it was the relationship worked in the first place. Try to ensure the children are not the main topic of conversation. Instead, take time to listen to one another. A simple step like this can help each partner see the other's role in a fresh light and re-establish or reinforce a mutual respect.
It is not good enough to just continually make compromises for the sake of a child. Time has to be found to maintain a healthy relationship with one other, and that includes a sexual bond.
Quality Not Quantity
The demands of modern life can mean couples struggle to find the time and energy for sex. As a result, quality is often more important than quantity and so rather than take a gamble with sexual satisfaction – or a lack of it – it is important to talk to one another. This can add to the intimacy and will allow the most to be made of infrequent sexual encounters.
With children and long working hours, spontaneity may have to become a thing of the past. It's more likely that time will need to be scheduled for sex and that sounds like a real passion killer.
But it's a myth that sex is better when it's spontaneous. There is no doubt that surprise sex can be fantastic, but planning will build anticipation and anticipation will build arousal. Planning what to wear and taking a relaxing bath or shower can ensure both partners feel their sexiest and are ready to use the time to the full when it comes.
You might also like...