Time for Mum and Baby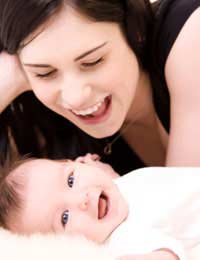 It can be tough for a working mum to get the work-life balance right. A mum can find herself torn between a desire to pursue and advance a fulfilling career and a longing to dedicate more time to bringing up her children. She can achieve both, however, and a househusband can help her do it.
It is easy for a working mum to feel guilty about neglecting childcare responsibilities, so a stay-at-home dad should reinforce the importance of the role she plays. Tell her to concentrate on her job while at work and to realise what a valuable contribution she is making by being there.
A househusband can ease the strain on his partner by ensuring that all the household chores are done. It will only pile extra pressure on a working mum if she comes home to find domestic tasks such as laundry, washing-up, vacuuming and dusting waiting to be done. She may even feel her partner is unable to cope on his own at home.
Special Bond Between Mother and Baby
If the house is clean and tidy, however, the mum can relax at home and concentrate on spending quality time with her children. Remember there is a bond between a mother and her child that was formed long before the child was born. It is important for both the mum and the baby to cement this bond and build a strong, everlasting relationship.
The family should spend plenty of time together, of course, but it is important for a stay-at-home dad to step aside on occasion and allow his partner time alone with her children. This can also give dad a chance to catch up with friends and spend some precious time in the company of adults.
If a working mum finds her job so demanding that she feels unable to spend as much time with her children as she would like, it may be necessary to explore what alternatives are open to her. After all, employers are legally obliged to consider requests for flexible working from parents with a child aged under six.
Realistic Alternatives
Sit down together and give careful consideration as to how an ideal working week would pan out. It may be that working from home or working term time are realistic alternatives.
Employers who invest time and resources in training and retaining staff know an employee who is offered flexible working is less likely to leave for employment elsewhere. Many employers will have families of their own and so will understand the desire to work around home-based obligations.
Perhaps such a dramatic change is not necessary. A partner dedicated to her job may have been putting in extra hours without giving it a second thought before the arrival of her family. A new baby brings new priorities, however, and a mum should not feel obliged to continue to put in the extra hours.
Timely Exit
Try to encourage a partner to leave her work on time. There is no need for her to feel guilty about it or try to slip out unnoticed at the end of the day. She is entitled to do so and after a while it will become second nature.
An employer is entitled to expect employees to give 100 per cent at work without being interrupted by family members with domestic crises, but in return a working mum should not be expected to be on call around the clock. She should be able to switch off at home and concentrate on being a mum. Perhaps then she can get the work-life balance just right.
You might also like...