Coping with Jealousy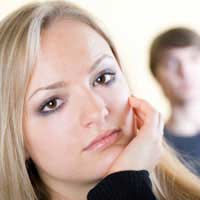 It is not unusual for the green-eyed monster to pay a visit following the arrival of a baby. Emotions can be running high and then sleep depravation kicks in, adding to the stresses and strains of everyday family life. It can be difficult for a working mum when her maternity leave is at an end and it is time to return to work.
A working mum can be jealous for a number of reasons. Perhaps she envies the role her househusband has - namely looking after the baby - while she goes out to work. Regardless of what was agreed prior to the baby's arrival, the birth can change a mum's outlook. Maybe she feels the task of childcare should be hers and that her partner should revert to his traditional hunter-gatherer role.
She may resent the quality time her partner and the baby spend together. In that case, it may be the dad she is jealous of or it could even be the baby. It is easy for a doting father to neglect a partner's feelings. It may be the mum craves more attention, emotional support and private time without the baby, but society's expectations can make it difficult to accept and deal with even the slightest twinge of jealousy a parent has towards a child. It is a strictly taboo subject.
Negative Emotions
The assumption is that motherhood will turn even the most flawed of human beings into a saint pathologically incapable of doing anything more than dishing out unqualified approval and unconditional love to their offspring. The destructive and negative emotions that accompany jealousy are seen as particularly shocking in this context.
As a result, it can be tough for a mum to admit feeling envious of her children, but bringing the jealousy into the open is the best way to deal with it. Jealousy is a destructive pattern of behaviour, but it can be broken and the sooner it is dealt with, the sooner it will dissipate.
The worst and most dangerous way a mum can deal with her jealousy is to bury it. Left unspoken, it can make her resentful of both her partner and her baby and ultimately could damage her whole experience of motherhood. A stay-at-home dad can help prevent this by encouraging his partner to talk through her feelings.
Tough to Talk
Be aware that she may feel weak for harbouring such thoughts. She may even find it too difficult to talk to her partner, in which case encourage her to talk to a trusted friend, therapist or mother's support group first.
A househusband should encourage his partner to improve her own relationship with her baby. Promote anything that involves skin-to-skin contact, such as cuddling, playing, bathing, changing nappies and putting the baby to bed. If she is not breast-feeding, encourage her to do some bottle-feeding. These activities and others, such as taking the baby out for a walk, can help her bond and build her own solid relationship with the child, independent of her partner.
You might also like...