Child-proofing Your House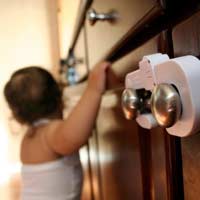 There are stacks of products on the market to childproof a home, many of them inexpensive, and these items serve a dual purpose by safeguarding valuables and protecting the child. For a relatively small outlay and with a little DIY, a stay-at-home dad can install a wide range of products that will give him peace of mind.
Small fingers and a curious mind can be a dangerous combination and househusbands should protect DVD players, video recorders and digital TV boxes that can trap little hands. Shields and locks are available from as little as £2 and can prevent costly repairs caused by children shoving toys or food into the units.
The kitchen is another potential minefield, but appliance latches and locks are available for as little as £2 and can be fitted to refrigerators, freezers, ovens, dishwashers and microwave ovens. Cooker guards designed to stop young children touching the hob or hot pans cost around £20. Glass oven doors can become very hot and for around £20 an oven door guard will deny the child access to the glass while still allowing parents to see what is cooking. Drawer and cupboard locks are under £1 each and can keep cleaning products, dangerous equipment and valuable crockery locked away.
Protect Children From Household Dangers
Cushioned guards are available to protect children from sharp edges on furniture, while furniture straps can be used to attach tall, heavy units to walls and so prevent them toppling on toddlers. These measures will cost only a few pounds, but a fire guard designed to keep babies away from the fire place and surround can cost up to £70.
Plug socket inserts can prevent serious and even life-threatening injury and cost only a few pence, while socket guards cost around £5 and will make the entire socket inaccessible, so essential appliances cannot be switched off and on by young children. Cable shorteners will remove the risk of tripping, electric shocks and strangulation accidents by tidying away long and dangling electrical wires.
Stair gates will do as the name suggests and deny inquisitive toddlers access to the stairs. They should be fitted to the top and bottom of each set of stairs and cost around £20 each. Doors can cause nasty injuries to children too, but stoppers can be bought for a few pounds and will prevent tiny fingers being trapped.
Remove the Risk
Cord winders cost around £3 and will keep the cord from vertical blinds out of a toddler's reach. They stop children pulling blinds down on top of themselves and remove the risk of strangulation accidents caused by dangling cords. Window locks will thwart any young child determined to escape and prevent fingers and hands being trapped for under £5.
A young child will be safe in a play pen as long as it is not overloaded with toys, but play pens are more expensive than most safety measures at around £80, whereas only £2 can buy a lock to stop children using the toilet as a receptacle for toys.
Any dad that has not already fitted smoke alarms should do so – they cost around £15 each – and, at around £25, a carbon monoxide alarm is another worthwhile investment. Finally, every home should have a first aid kit and a good one will be a little over £20.
You might also like...