Househusbands and the Health Visitor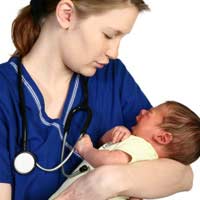 A health visitor is like a walking encyclopaedia of childcare information. It can be comforting for a stay-at-home dad to know a health professional will visit to carry out regular child development checks, offer health advice, provide practical parenting tips and listen to any concerns.
The role of a health visitor is a far-reaching one. Every health visitor is a qualified registered nurse, midwife, psychiatric nurse or sick children's nurse who has specialist qualifications in community health that cover child health, health promotion and education.
What do Health Visitors do?
Health visitors are an integral part of the NHS Community Health Service. The main focus of their work is to help people stay healthy and avoid illness through prevention, but they can offer help and advice to parents on a wide range of topics including:
A child's growth and development.
Common infections in childhood.
Common skin problems.
Behaviour difficulties and temper tantrums.
Sleeping.
Toilet training.
Teething.
Breast-feeding, weaning and healthy eating.
Hygiene and safety.
Exercise.
Postnatal depression.
Bereavement.
Violence in the family.
Most health visitors are attached to a GP practice and cover the geographical area of that practice. This allows them to identify the health needs in their community and affect local policy. Every family with a child under five years old has a named health visitor who will offer support and encouragement through the early years - from pregnancy and birth to primary school and beyond.
It is their responsibility to notice any abuse or neglect, realise when parents are having serious problems and involve other professionals. They can also provide support for parents with emotional health and relationship problems.
Health visitors are involved in organising and running baby clinics, breast-feeding support groups, health promotion groups, parent support groups and parenting courses, and can tell parents about local services such as baby groups.
Tailor-Made Health Plans
They work alongside midwives to help prepare parents for the birth of their baby through prenatal classes, co-ordinate child immunisation programmes and work closely with speech therapists, social workers, school nurses and district nurses as well as families to tailor health plans to their needs.
It is a far-reaching role that is appreciated by parents. Research carried out on behalf of the Family and Parenting Institute in April 2007 found that 76 per cent of parents in England want parenting support and advice on their child's health and development from a trained health visitor with up-to-date knowledge. Close to 5,000 parents were quizzed and 83 per cent of them wanted that support and advice to be provided in their home.
But the same research found that the frequency of visits can vary considerably throughout the country and is a bit of a postcode lottery. Those in Redbridge have only one health visitor for every 1,142 children under five, while in Doncaster there is one health visitor for every 160 children under five.
Stay-at-home dads should take advantage of the experience and knowledge of their health visitor, and can arrange a home visit through their GP surgery. It is a good idea for a househusband to get into the habit of writing down any questions he may have for the health visitor so that the most can be made of the visits.
You might also like...